Parkinson's Awareness Week
This year Parkinson's Awareness Week will take place between Sunday 10th April until Saturday 16th April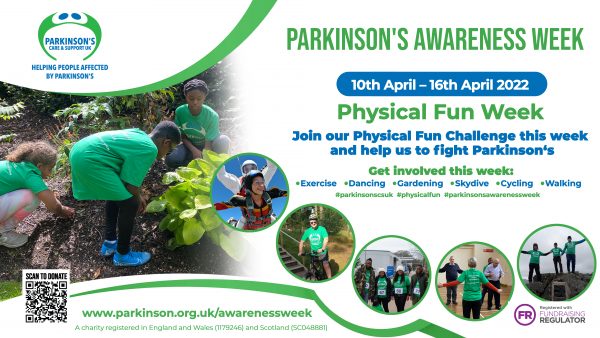 This Parkinson's Awareness Week we will be focussing on the many fun ways in which we can keep physically active. Exercise and keeping active is extreme important for people with Parkinson's and sadly many people view exercise as a chore or boring activity. We want to change this! We want everyone out there during Parkinson's Awareness Week to engage in some form of physical activity that they find fun! If you are unsure of what to do, check out our calendar of events or suggested activities which you can do locally, on your own or with friends and family!
Hold your own physically fun Fundraiser for Parkinson's
Join our Parkinson's Fundraising Team by holding your very own physically fun fundraising activity this week. This can include: walking, running, cycling, dancing or whatever you like to raise money for vital Parkinson's services.
Simply speaking, there is no one out there providing the services we do. Your support helps people living with Parkinson's today, not tomorrow. Every pound raised will fund therapies, mental health support, care, training, information and non-pharmaceutical research to curb the devastating progression of Parkinson's and enable people to live better for longer.
There is no cure for Parkinson's, which is why we need your support to enable people with the condition to live life to the fullest and to live better for longer.
Hold your own fundraiser this Parkinson's Awareness Week in just a few simple steps:
1. Decide on what you would like to do e.g a family cycle event, sponsored Nordic walk , Skydive etc
2. Download the following to help you with your fundraising:
3. Set you your Justgiving fundraising page.
4. Email fundraising@parkinsonscare.org.uk to let us know about your event and to order collection cans, balloons, leaflets and other materials.
5. Spread the word by sharing your event and our Parkinson's Awareness Week poster!
Spread the Word! 
Download our Parkinson's Awareness Week poster and share on your social media pages! Don't forget to like or follow us and tag Parkinson's Care and Support UK @ParkinsonsCSUK:
Join in this awareness week in a range of physical events and activities to get you active whilst having fun! We have a calendar of activities taking place every day from the 10th April- 16th April 2022 where everyone can get involved. Be sure to register for the activities in advance and you'll be provided with information and access links to join.
All of our work is funded by the public through donations. Help us to improve life of more people affected by Parkinson's today, not tomorrow. To support any area of our work including the Parkinson's Mental Health Support Hub, Respite Care, Research, Exercise Programmes and Neurological Physiotherapy.