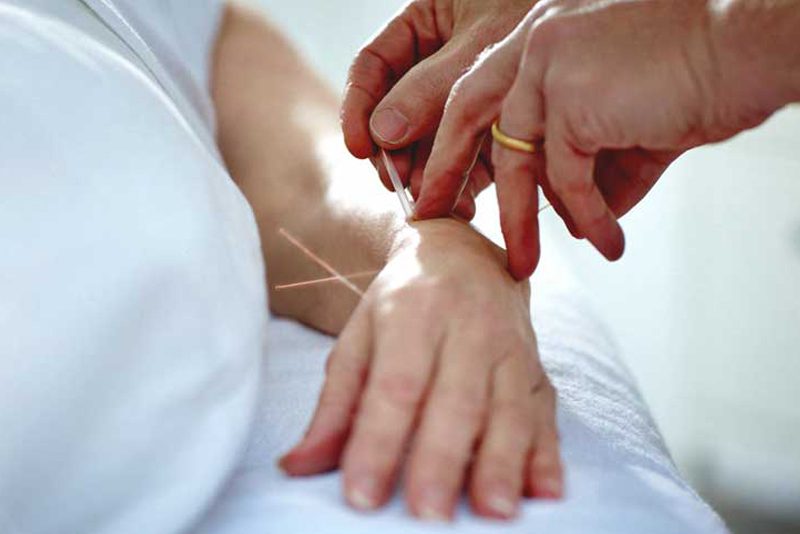 Acupuncture is an alternative therapy for Parkinson's Disease. It is a form of traditional Chinese medicine that has been around for thousands of years. It involves the insertion of thin needles into specific locations in the body in order to help relieve an ailment or issue. Acupuncture is based on traditional Chinese theory that disease is caused by disturbance of the body's life force, Qi (pronounced "Chi"). The acupuncture needles stimulate specific points in the body which are thought to release Qi, rebalancing the flow of Qi along channels in the body known as meridians. It is commonly used to reduce pain, stiffness, constipation, insomnia, anxiety and depression.
Acupuncture has been studied in clinical trials for a range of conditions, many of the studies involved only small numbers of patients. There have also been a number of clinical trials assessing the use of acupuncture for various symptoms of Parkinson's.
Evidence suggests acupuncture leads to the release of endorphins, or brain chemicals that can trigger a sense of wellness, reduces inflammation in the body or increases nerve growth factors. Researchers have looked at acupuncture for its potential benefit on Parkinson's motor symptoms as well as several non-motor symptoms.
Evidence suggests acupuncture can improve some Parkinson's symptoms including tremor, walking difficulties and rigidity. There is increasing evidence that acupuncture may help with non-motor symptoms, such as pain, fatigue and anxiety. It can also help with sleep problems.
Many people find that acupuncture increases energy levels, induces relaxation, improves appetite, mood and sleep, as well as an overall sense of wellbeing. There is also evidence that acupuncture reduces stress levels through the release of endorphins.
Acupuncture benefits for Parkinson's include:
•
Reduce Anxiety and Depression
Outside of clinical studies, many individuals anecdotally report improvement in their symptoms with acupuncture. But benefits appear temporary and regular treatments are necessary to sustain them. In general, acupuncture appears safe and well tolerated in people with Parkinson's.
As acupuncture is not regulated, it is a good idea to speak to those who have experience with this therapy and who are able to recommend a therapist. We also recommend seeing a therapist who has experience of Parkinson's so do remember to as ask them about their experience of the condition as well as their qualifications.