8- Week Research Backed Mindfulness Course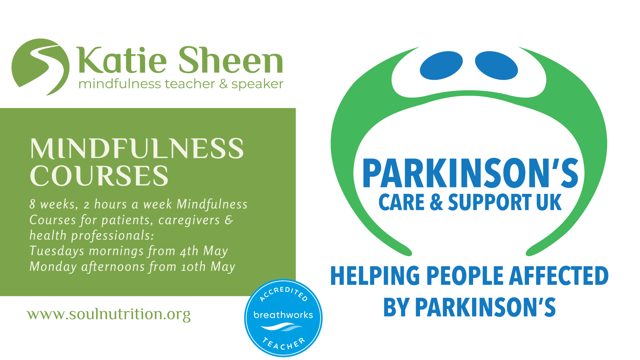 Generously supported by Parkinson's Care and Support UK, we are delighted to offer a regular programme of 8-weeks, 2 hours a week, research backed Mindfulness Courses delivered by Mindfulness and Breathworks Accredited Teacher, Katie Sheen.
The courses welcome anyone who would like to explore how mindfulness can help to manage life with Parkinson's. This includes patients, carers and health professionals. Together we will explore how mindfulness can help fatigue, pain and support emotional and physical wellbeing, improving life today so that you can live better for longer.
Some of the things you will learn on the course include: Skills to ease the suffering associated with pain, fatigue and ill health, how to practice meditation, how to include mindfulness and self-compassion in your daily life, supportive mindful movement practices, the art of taking joy in simple pleasures and tips from modern Chronic Pain management techniques, including pacing and learning how to break the 'boom and bust' cycle.
ABOUT KATIE SHEEN, PGCE, MA Education
Katie first discovered mindfulness in 2001 and has studied in a variety of Buddhist and Secular Mindfulness traditions, finding the teachings invaluable in helping her to handle both the large and small challenges of everyday life. Her career has included teaching nutrition in universities, colleges and at CPD events for health professionals, and working in both patient support and research management roles for national brain tumour charities. After being successfully treated for cancer in 2015 she has gradually moved into teaching mindfulness full time, in recognition of the pivotal role that mindfulness played in her recovery.
TO OBTAIN YOUR SUBSIDISED PLACE
The standard price for the whole 8 weeks course is £250, with concessions £175. Parkinson's Care and Support are offering an additional subsidised rate of just £145.
To obtain your subsidised place on the next available Mindfulness for Health course, simply email katie@soulnutrition.org and mention that you have found details of the course on the Parkinson's Care and Support UK website. She will then organise everything for you, to make the process as simple as possible.