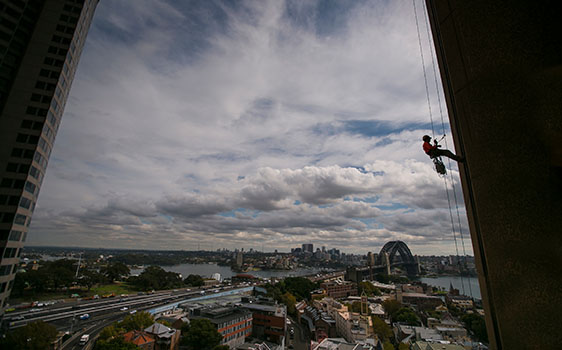 Abseil

– Various dates 2020
Registration £50
Minimum sponsorship £295
Are you a thrill-seeker looking for a different challenge, or do you want to conquer your fear of heights? Then why not take on our new, adrenaline-fueled event: a freefall abseil!
Choose from two fantastic locations: the ArcelorMittal Orbit and UK's tallest sculpture at London's Olympic Park, or the iDrop British Airways i360, above Brighton's famous beach.
Perfect for individuals, couples, groups of friends, family & colleagues – reach new heights in 2020 and experience spectacular views of London or Brighton, while raising money for those affected by Parkinson's.
No prior experience is necessary, as trained instructors will guide you and ensure your safety every step of the way. *Accessible abseils are available for wheelchair users.
Arcelor Mittal Orbit – London
UK's largest and tallest sculpture at the Queen Elizabeth Olympic Park, in Stratford
Experience an exhilarating 80m descent to the ground while taking in breath-taking 20-mile views across London – including iconic buildings such as The Gherkin, St. Pauls, Canary Wharf and Wembley Stadium, as well as the world-famous sporting venues of Queen Elizabeth Olympic Park.
Costs and availability: £50 for Sunday- Saturday.
iDrop British Airways i360 – Brighton
Step out from the British Airways i360 pod, 450ft above Brighton's beach.
Experience an 131m gliding descent to the ground while taking in sweeping coastal views across 26 miles in every direction, from Sussex and the English Channel to the South Coast.
Costs and availability: £50 on the following Saturdays only –Saturday Mar 14th, Saturday Mar 21st, Saturday Mar 28th, Saturday Apr 25th, Saturday May 23rd, Saturday Jun 13th, Saturday Jun 20th, Saturday Jul 11th, Saturday Jul 18th, Saturday Sep 19th, Saturday Sep 26th, Saturday Oct 3rd, Saturday Oct 10th, Saturday Dec 5th
Please note that participants must:
Be over 14 years of age (parental consent required if under 18).
Be over 1.2 metres in height.
Be less than 19 stone (120kg) in weight.
Be able to wear a harness which has a maximum width waist of 130 cm and a maximum upper thigh width of 75cm.
Not be suffering from any medical condition that may put your health & safety, or that of others, at risk.
Not be under the influence of drugs or alcohol.
Sign a declaration before participation.
*Accessible abseils: Wire and Sky aim to make the abseils as accessible as possible for wheelchair users and those with additional requirements. Please call them on 020 3198 0407 to discuss your requirements prior to booking/registering interest and they will do their best to accommodate your needs.
Our fundraising team will support you with your fundraising and any questions you might have. Please don't hesitate to contact us at fundraising@parkinsonscare.org.ukor on 020 3380 2573.